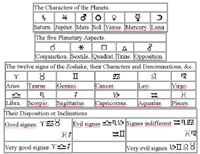 The disposition of the planets.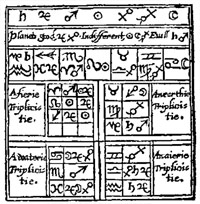 The aspects of the planets.
Is the best aspect, with good planets, and woorst with evill.
Is a meane aspect in goodnesse or badnesse.
Is verie good in aspect to good planets, & hurteth not in evill.
This aspect is of enimitie not full perfect.
This aspect is of enimitie most perfect.
How the daie is divided or distinguished.
A daie naturall is the space of foure and twentie houres, accounting the night withall, and beginneth at one of the clocke after midnight.
An artificiall daie is that space of time, which is betwixt the rising and falling of the &c. All the rest is night, & beginneth at the rising.
Hereafter followeth a table, showing how the daie and the night is divided by houres, and reduced to the regiment of the planets.
The division of the daie, and the planetarie regiment.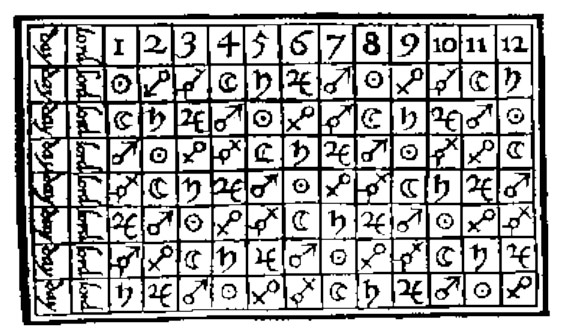 The division of the night, and the planetarie regiment.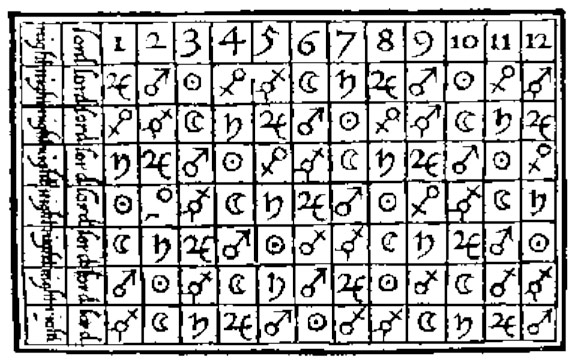 THE CHARACTERS OF THE ANGELS OF THE SEAVEN DAIES, WITH THEIR NAMES: OF FIGURES, SEALES AND PERIAPTS.
These figures are called the seales of the earth, without the which no spirit will appeere, except thou have them with thee.